---
Starting Your Studies
Department Induction: Our department administrator, Julie Sobocinski, will provide you with an induction to CIS. Arrange a time with her to get your office assignment, computer, and get all the necessary details.
University Induction: The University also provides, PGR Student Induction, a training course which you should sign up for when you first arrive. You can also take the PG Essentials: Digital Scholarship Skills for RDP credit. This course complements induction and covers topics such as online research, routes to publishing, Open Access and measuring research impact.
SPIDER: Your student record is recorded in the Faculty of Science's virtual learning environment called SPIDER. You need to register for an account when you first start and then you can do things like submit reports about your progress and record the professional development training you take through the Researcher Development Programme. To register, you can use the Quickstart Guide to SPIDER. You can use the SPIDER Guide to find and record activities for the Researcher Development Programme (more about that below).
Required Training: To ensure students have the health, safety, and security training they need, the University provides two online courses that every student must take when they arrive. This is the Health & Safety Course and the Cyber Security Training course.
---
During Your Studies
PG Essentials: You can take the PG Essentials: Digital Scholarship Skills course for RDP credit. This course complements induction and covers topics such as online research, routes to publishing, Open Access and measuring research impact.
Researcher Development Programme: To help prepare PGR students in research, the University has the Researcher Development Programme (RDP). This programme has professional and personal development opportunities. You can find more information in the RDP 2018/2019 Handbook and on the RDP FAQs. You can book RDP training courses on the online booking system.
PG Cert in Researcher Professional Development: In order to obtain your PhD, you need to complete the Postgraduate Certificate in Researcher Professional Development (RPD), which is 60 credits.
Strathclyde Doctoral School: The University has the Strathclyde Doctoral School, which "supports and facilitates an interconnected research community, through which interdisciplinary research dialogue, knowledge exchange, and impact and innovation opportunities are encouraged and promoted". If you are interested in getting involved and making sure that ensures sure that the needs of PGR students are heard and catered for, you can get involved in the Doctoral Researchers' Group.
Ethics: If your research involves human participants, you will require ethics approval. For minimal risk studies (those that pose no more risk than what people encounter in their day-to-day lives), you can apply to the Departmental Ethics Committee. For those studies that involve more risk (deal with vulnerable populations or sensitive data), you need to apply to the University Ethics Committee for a full review.
Teaching: If you are a PGR student who also teaches, there is a specific course for you to take called Introductory Training for PGRs Who Teach.
---
Regulations and Policies
The University has a regulations, guidelines, and policies for PGR studies. This includes:
---
The PhD Process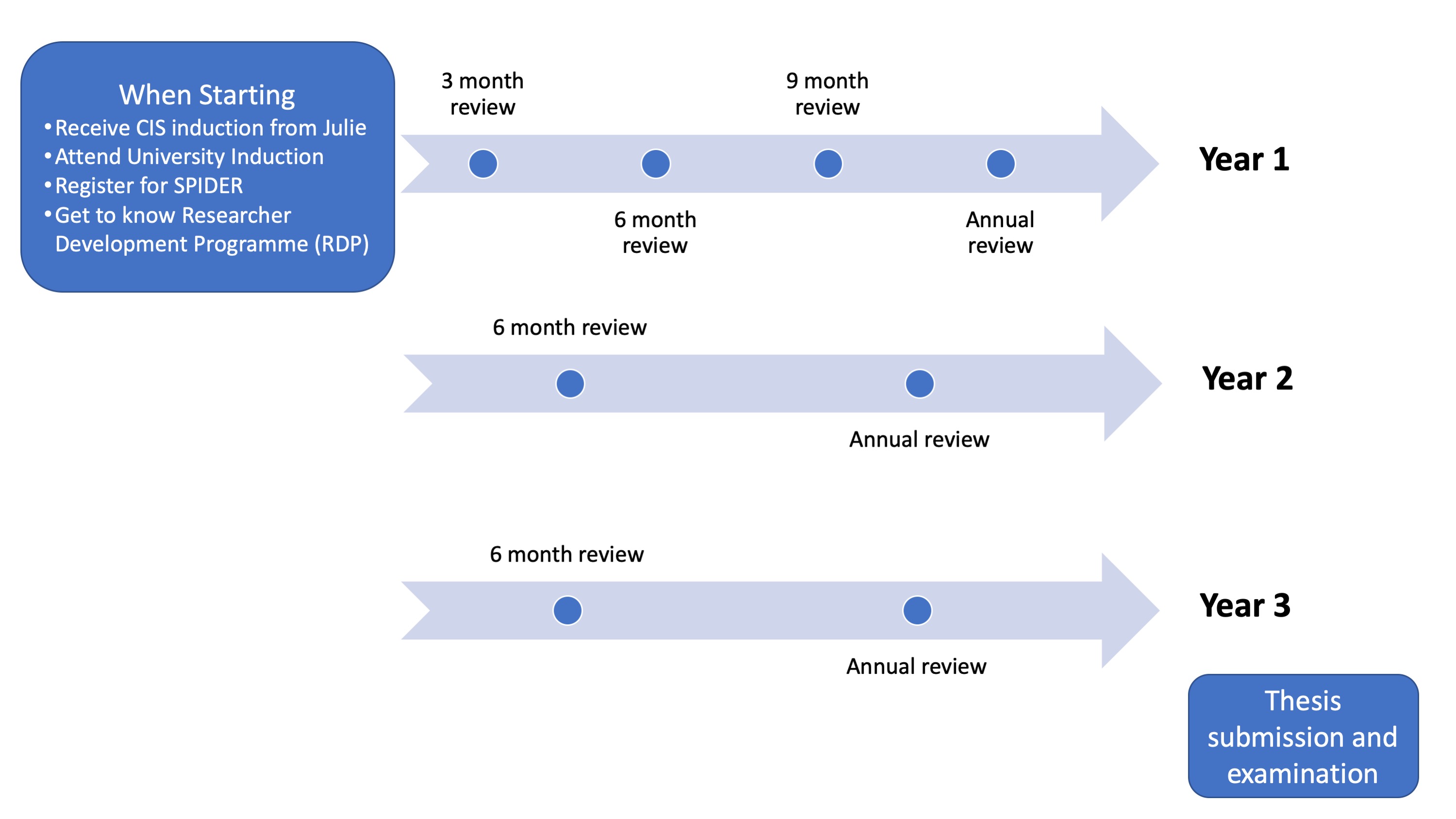 The Policy and Code of Practice for Postgraduate Research Study outlines many aspects of PGR study and dictates many important aspects, such as responsibilities, duration of study, and the viva process.
Supervisors: A minimum of two supervisors (and a maximum of three) are appointed for each PGR student. Your first supervisor will be your main point of contact throughout your PhD and it is important that you communicate regularly. You will work closely with your supervisor but you are expected to take ownership of your research. Within 6 months of starting your PhD you will also be allocated a second supervisor. The role of a second supervisor varies; sometimes the supervisor and second supervisor act as joint-supervisors. Usually the second supervisor takes a less formal role in the supervision. Second supervisors are useful to get another view on your research, to act as a sounding board for new ideas or to read drafts of papers or report. If your first supervisor is absent from the department, or out of contact, for more than 4 weeks your second supervisor is expected to take over the supervision duties.
Duration of Study: Research degrees have a minimum and maximum period of study. For full-time study, the maximum period of study is 48 months for Doctor of Philosophy. If you do not complete on time, you must formally apply for an extension, which is not guaranteed. (The University requires you to fill out an Extension to Maximum Period of Study form.)
Sample program of study: There is no one way to do a PhD. However, all PhD students are expected to complete their studies within 3 years. This means that you need to plan your activities. An example of a plan for a 3-year program of study is:
Year 1
Months 0-2: Background reading and thinking about your PhD topic.
Months 2-4: Pick a main topic and do more focussed reading. This will form the basis of your literature review chapter of your thesis, which will develop throughout the PhD.
Months 4-10: Mini-project and more reading. A mini-project is some activity to get you doing research early on; depending on the nature of your PhD topic it could be building a small prototype, running a small experiment, or doing a detailed literature review.
Month 10: Prepare for first year defence
Month 11/12: First year defence
Year 2
Months 12-22: Main bulk of your research. Data collection, developing solutions, establishing primary results, writing implementations, or applications. Also drafting chapters of your thesis based on this work.
Month 22: Prepare for second year defence
Month 23/24: Second year defence
Year 3
Months 24-30. Finishing your research and completing final analysis.
Months 30-36. Writing up the dissertation. Commonly the final write-up will take longer than you think. You also need to allocate time to allow other people (e.g. your supervisor) to read your thesis and negotiate when the draft will be sent in advance. You may also be looking for jobs or post-doctoral positions during this time, which will also take longer than you think.
---
Thesis Submission and Viva
Examining Committee
When you are nearing completion, an examination committee will be formed. The examination committee consists of:
External Examiner: senior academic at another university. Your supervisor will recommend the External examiner to the Head of Department who will recommend the examiner to Senate who must approve the examiner. This can take some time, so Externals may be appointed before you submit your thesis. You will not be notified of who your External is before you submit and you should not contact the External before the viva. The External has the main role in the viva, will ask most of the questions and, in the case of a disagreement between examiners, their opinion will carry most weight. The University has a website with more information about External examiners.
Internal Examiner: represents the Department and will be a member of the Department's academic staff who has had no formal role in your PhD.
Convenor: organises the viva (dates, times, equipment, etc). The Convenor also nominates members for the examining committee, which have to be approved by the Vice-Dean. The Convenor's main role is to make sure that the viva runs smoothly, fairly and to liaise with the examiners.
Thesis Submission
Students/doctoral candidates should consult with their Supervisor when their thesis is ready for submission and should notify the Convenor accordingly. Once the Convenor has submitted the names of the examining committee members and the committee is approved, the student is able to submit her/his thesis online.
Viva
During the viva you will be asked questions relating to your PhD work. The External needs to make a series of decisions regarding the quality of your research. These will include assessments that your research is original, makes a substantial contribution to your research field, is of sufficient literary style, is worthy of publication (in part or in whole) and you have given a satisfactory oral examination. The questions the External will ask will help him or her to determine the originality, robustness, and quality of your research. Different examiners have different styles in questioning but do not panic about questions: the External is not checking that you remember everything in your thesis, what they are trying to establish is whether you are capable of carrying out good research and many questions may be general or simply asking your opinion on your research area.
Your supervisor(s) and/or Head of Department may also be present during the viva, but it is important to note that this is not a right, and may be vetoed without question by any of the External, Internal, or the student. The convenor will confidentially ask each participant (examiners and students) separately before the viva if they object to the supervisor or Head of Department being present. If present, these people must remain absolutely silent unless explicitly requested by a member of the examination committee to answer a specific question. Neither your supervisors nor Head of Department take part in the decision regarding the outcome of your viva.
Viva Structure
The standard format for a viva in this Department is outlined below although the External Examiner has the final decision on the actual format. A standard viva usually lasts for about 2 hours although there is no time limit (minimum or maximum).
meeting of exam committee alone
supervisor(s) invited to join
student invited to join
student invited to give 10-minute presentation of work
questioning by External and Internal examiners
supervisor(s) leave
student asked about supervision experience
deliberation (supervisor(s) to be available on request)
supervisor(s) recalled
student recalled for result
Viva Decisions
The outcome of your viva will be one of six results:
Pass: The degree be awarded. This means that you are not required to make any changes or corrections to your thesis and you can submit the hard-bound copies. This is very uncommon and most people will be required to make some changes.
Minor Corrections: The degree be awarded subject to minor amendments being made to the satisfaction of the: (a) Internal examiner only OR (b) full Examining Committee.

This means that the examination committee recommends you be awarded the degree subject to you making some minor corrections (e.g. spelling mistakes) or improvements (e.g. clarifying text, adding some extra analysis or running an additional test). These corrections must be checked and approved by the Internal Examiner. You will be given a time limit to complete these improvements and give the new version of the thesis to your Internal Examiner, typically 1-3 months. Once the Internal Examiner has agreed the improvements are satisfactory you may submit the final hard-copies of your thesis.

Major Corrections: The thesis be revised in accordance with the recommendations of the Examiners and re-submitted within 12 months or earlier of the date of this report. Re-examination will be required: (a) with oral OR (b) without oral.

More substantial improvements are required to bring the thesis to the desired standard. Either this means that the writing needs substantial changes. In this case you will be given a longer amount of time to make the required changes, e.g. 6 months, or 1 year, and there may be a requirement for a further viva. The External Examiner will have the final say in whether the improvements are satisfactory.

Further Research: The thesis be resubmitted after further research as indicated by the examiners and a further oral examination be held within 18 months or earlier of the date of this report.
Masters: The degree of Master of Philosophy/Science by Research/Laws be awarded OR The thesis be amended and submitted for the degree of Master of Philosophy/Science by Research/Laws by Research

The work is insufficient to award a degree of PhD but the thesis will be accepted as suitable to obtain a Master's degree. This outcome is very uncommon.

Fail: The degree be not awarded.

In this case, the research has been judged insufficient to be awarded a PhD even with major changes. In this Department, it is unlikely that a student who is likely to fail will be allowed to submit the thesis although this decision is possible.
The final assessment (the viva) is described in Section 11 of the Policy and Code of Practice for Postgraduate Research Study
Final Thesis Submission
At the end of the University examination process all successfully awarded research postgraduate students are required to submit the following to Student Business:
one hardbound version of their thesis
one completed Thesis Submission form
one completed Digital Thesis Licence Agreement
a PDF version of their thesis and any supplementary data that was required for assessment. Files should be uploaded to the Research Degree Examination Sharepoint site.
For more information and instructions, go to the University webpage.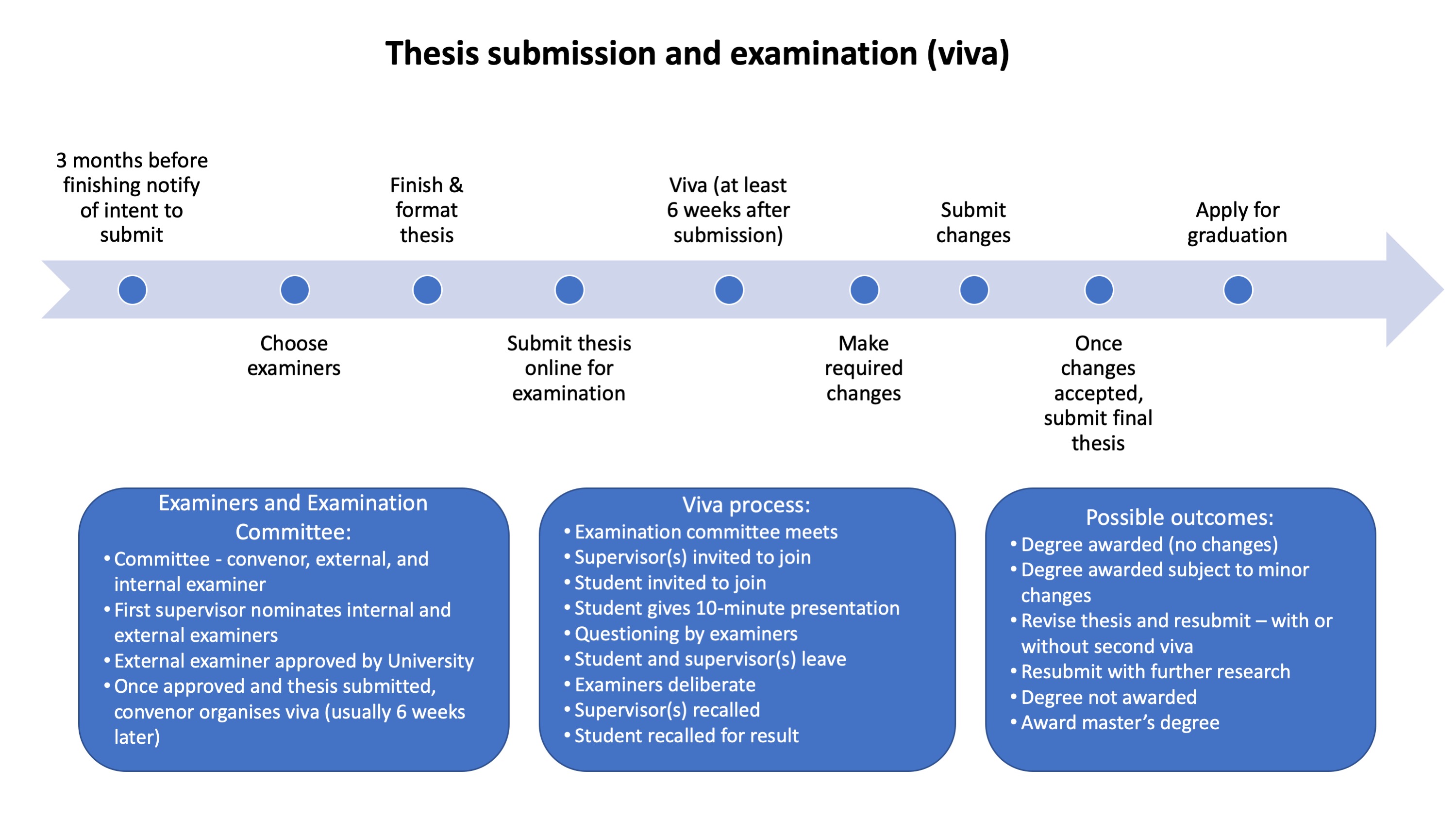 Resources
The University has several pages with information about submitting your thesis, including:
---
Graduation
All students to to enrol to graduate, even if you're not attending the ceremony. Do not wait until you have your results or until your award has been confirmed. If you don't enrol before the deadline you may not be able to graduate. More detailed information about graduation can be found on the University's website.
---
Examination Appeals and Complaints
Appeals
If the University decides to terminate your registration (e.g. after unsatisfactory progress), not to transfer a registration from a Master's position to a PhD position or not to award a degree, you have the right to appeal against this decision. You will be notified by letter regarding how to appeal. Your appeal may be on one or more grounds, e.g. medical or personal circumstances, which hindered your performance or lead you to suspect that you have been prejudiced against or inadequately assessed. Please discuss possible appeals with the Head of Department, Research Director or Postgraduate Monitor. You are not obliged to do this but we can give advice. The Faculty will set up an independent panel to consider your appeal, should your appeal be unsuccessful you may appeal to Senate. You may obtain assistance in preparing your appeal from the Student Advisory and Counselling Service, the Students Association or the Department.
Complaints
In the first instance all complaints (other than appeals) should be directed either to the Postgraduate Monitor, Research Director or Head of Department. If you remain dissatisfied you can address a complaint to either the Faculty Dean (for academic matters) or the University Secretary (for complaints regarding alleged discrimination or harassment).
---
Services and Supports
CIS and the University offer a wide range of services and supports for you during your studies. We hope you will take advantage of them. The IT and library supports include:
Other supports include:
---
Departmental Contacts
PGR Support and Development: George Weir
Head of Department:  Neil Ghani
Director of Research: Gobinda Chowdhury
Department Administrator: Julie Sobocinski
CIS Systems Support: cis-support@strath.ac.uk or 0141 548 3592